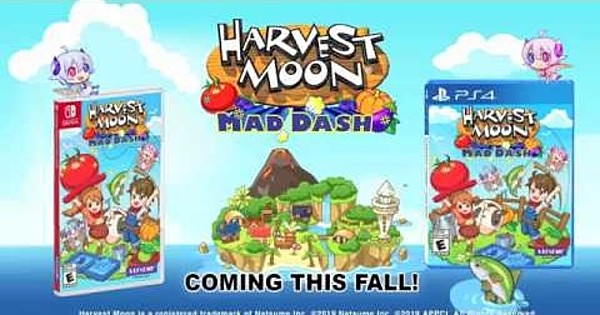 Game ships in N. America, Europe fall
---
Natsume began streaming a gameplay video for its Harvest Moon: Mad Dash game for the PlayStation 4 and Switch on Wednesday.
The game will ship this fall in North America and Europe. Natsume describes the game:
Go solo or take a few friends along for the frenzy! Harvest, fish, milk, and more as you fulfill orders to complete each level! Things may start out easy, but you'll hit the beach, the farm, and even the Underworld as you progress through the game! Have you ever tried to grow crops with molten lava falling on them?! That and other obstacles await you as you and your friends try to clear all the levels to restore the broken lighthouse!
Natsume published most of the previous games in the franchise under the umbrella title of Harvest Moon in North America. However, since XSEED Games — Marvelous AQL's own subsidiary — published the Bokujō Monogatari: Tsunagaru Shin Tenchi game in North America in March 2015, it cannot use Natsume's Harvest Moon title. XSEED most recently released Story of Seasons: Trio of Towns (Bokujō Monogatari: Mitsu no Sato no Taisetsu na Tomodachi) for the Nintendo 3DS in February 2017.
Bandai Namco Entertainment will release the Doraemon: Story of Seasons (Doraemon: Nobita no Bokujō Monogatari) crossover game for the Switch and PC via Steam in the West on October 11. The game will also launch in Southeast Asia in fall. The game launched in Japan for the Switch on June 13.
---