Superstitions, urban legends, and ghost stories are phrases that you'll often hear when discussing the folklore of small towns. Couple that with a murder mystery, and you've got a spooky story sandwich that's common in fiction. And since that's such a common, effective story idea, what happens when you add in some dating sim elements on top of that? Thanks to the wonderful world of visual novels, we're able to find out in Arc System Works' and TOYBOX's World End Syndrome.
Your named protagonist heads off to Mihate Town, a small seaside area of Japan that is known for a supernatural story that dates back a hundred years. There, you get to meet the five ladies you are able to date and have to uncover if a string of disappearances and murders are actually tied to this old urban legend. Does the game allow for enough twists and turns to keep you satisfied throughout? Is the dating aspect good or is it even necessary? Let's dive into these questions and see if you will be experiencing your own personal end of the world, or something else entirely.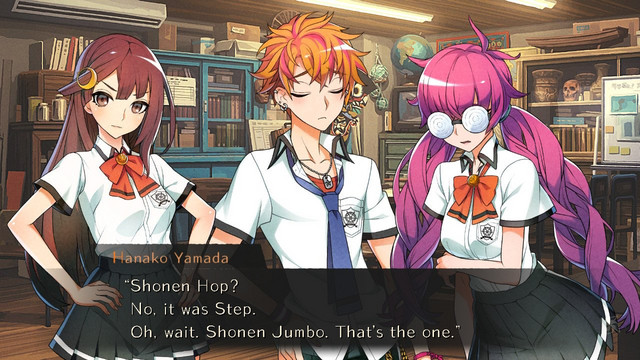 The prologue does a really good job of setting up multiple portions of the game at once. You're introduced to all of your dating options and get a sense of who they are, you meet the other side characters and see how they'll be utilized throughout the rest of the story, you learn about another incident that happened to a girl going to your school, and you also come to understand why the protagonist is so distant because of the death of his sister. Most importantly though is learning about the legend of Mihate Town itself.
A big proponent of the story is seeing how residents of Mihate Town deal with the history of Yomibito. According to the tale, Yomibito are people who have come back from the dead and don't remember the events of their death. They act as if nothing happened, until enough time passes and they lose control of themselves and go on murderous rampages. By the time you come to Mihate Town, it is approaching the 100th year since the last time a Yomibito incident has happened, and since this is all coinciding with a novel that brings the story back to the forefront, it has people on edge.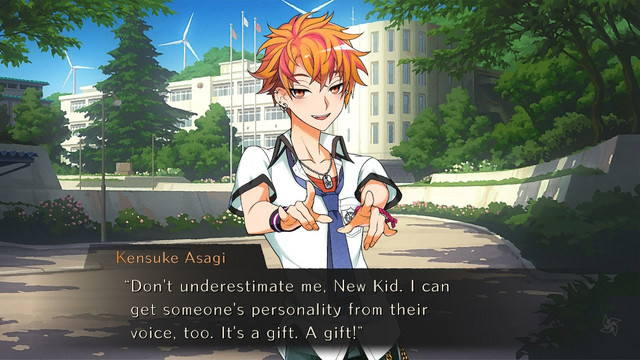 Throughout the prologue, the game is very straightforward and linear, with a few choices here and there sprinkled throughout. Once you get past the prologue, though, the game opens up allowing you to travel to different parts of Mihate Town at various times of day over the course of August. It's a bit overwhelming at first since you're basically free to go wherever you want and try to find people to talk to. This is how you'll eventually lock yourself into routes and endings, so you'll have to either be lucky, or you can save and load a lot if you decide you were unhappy with your initial choice.
This second half of the game can be a bit strange when you are going for a specific character to date, so a way to ensure you lock yourself into that route is to constantly find them on each day. That makes sense in the context of a dating sim, but it makes the protagonist seem a tad like a stalker if you begin to think about it. Some of the later routes do seem a bit obtuse to try and get into, so you might need to find a guide to make sure you can get those to eventually lead yourself toward the true ending of the game.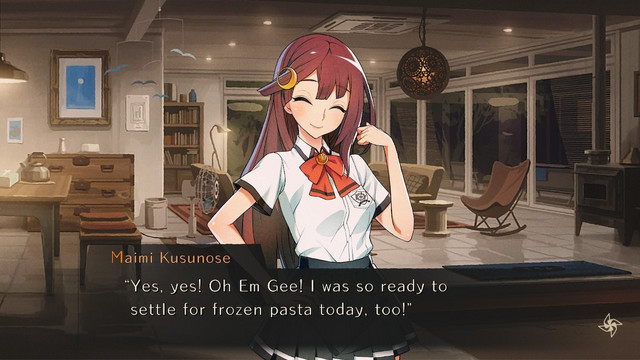 One of the first things you'll notice about the game is just how striking the art is. The backgrounds are absolutely gorgeous as they have this watercolor motif to them. Most of the backgrounds also have subtle bits of animation attached to them which allows for the world to feel more alive than if they were just static images. It's such a simple yet immersive and effective idea, and I hope more visual novels pick up on it.
Along with the background art, character designs were done by Yuki Kato of the BlazBlue series, with writing and directing by Tomio Kanazawa, who recently did the otome game 7'Scarlet (which has a similar story to this). As a whole, the writing does a good job of building up a mystery that doesn't fully unravel until the very end of the game. Each route you go through will peel away a tiny bit, and that continues as you make your way through the five dateable girls. Even when you begin the final true ending, you might have an idea of where the game is going, but as soon as you think you have the answers, the game changes the question.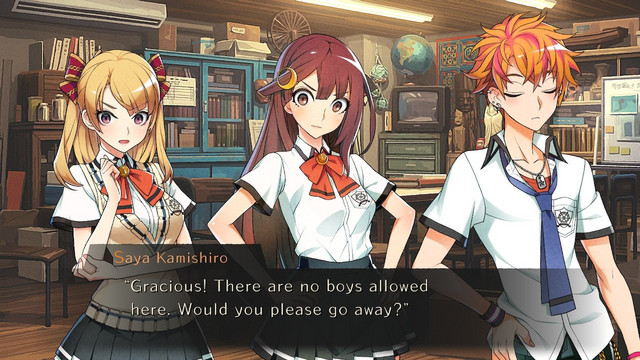 It helps that the game keeps up its mystery throughout and doesn't give away too much at a time. You effectively pick up a new piece of information with a new ending and that helps you try to piece together the puzzle. The five girls you are able to date are written well and different enough from each other that it doesn't feel like you're getting the same story from route-to-route. There's something that each girl is hiding in their routes, whether it's a form of trauma, dark secrets, or just wanting to be accepted for who they really are. They all have different approaches to interacting with the protagonist, which makes it more appealing to want to go through each route to see how all of the relationships end up.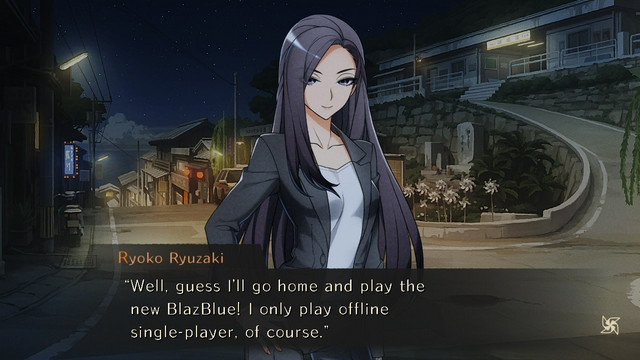 While the dating sim aspects are good and well written, though, it begs the question of if they're really needed at all. This could have easily been a story that was told with more linearity, and I think it still would have been good. So it's a bit of a catch-22 as World End Syndrome would still be a good experience on its own, but the dating aspects give you a good look at some solid characters. In fact, the only detracting aspect of the game is that it tends to lean into stereotypical lewd anime tropes at times. Luckily, the protagonist never feels lecherous, so these are kept relatively minimal.
You also can't use over six characters in your name which can lead to it just being cut off. My last name couldn't fit for example which was a bit weird since other characters have longer names. There was also a few instances of formatting errors within the text, but these don't do enough to take away from the writing as a whole.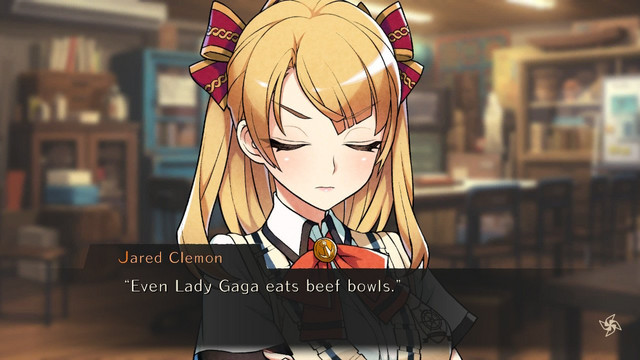 World End Syndrome is a fun mystery that keeps you invested all the way through to the end. In the wake of the PlayStation Vita being phased out, the Switch version seems to fill in that gap by working well both docked and when it's portable. Plus, it actually has a faux-Vita save interface. With how good the art and writing are, I'd be very interested if they looked to continue this as a series with another entry. So if you're looking for a good visual novel to keep you occupied before all of the video games in existence start to come out over the next few months, World End Syndrome is certainly one you should consider.
REVIEW ROUNDUP
+ Good story that keeps you intrigued all the way until the end
+ Great visuals and backgrounds that truly immerse you in the world
+ Writing is good with a clever localization
+ Each route and dateable option are well fleshed out and different from one another
– Can rely on tropes at times which don't benefit the story or characters.

If you've already played World End Syndrome, what were your thoughts on the game? If not, how do you think you'd handle moving to a new town and being thrust into a big mystery? Let us know down in the comments below!
—
Jared Clemons is a writer and podcaster for Seasonal Anime Checkup where he can be found always wanting to talk about Love Live! Sunshine!! or whatever else he's into at the moment. He can be found on Twitter @ragbag.
Do you love writing? Do you love anime? If you have an idea for a features story, pitch it to Crunchyroll Features!